Because i'm asthmatic, it's essential that respiration have to be heard . It's a question of staying alive. It's intimately related to Marcel Duchamp answer to the question « And what are you doing, Mister Duchamp? ».
Another aspect is to make palpable the matter: AIR, those which envelop us, which is molecular agitation, in humidity, in gas mixture more and less stable et dangerous, in air stream, in sound pressures.
Moreover by this installation, I would ask of the status of the instrument, of the player, vis a vis the electronic music and its avatars (computer).
Indeed, I only use a mechanics as an intermediate between organic and electronic. This is simply a mechanical electric motor air compressor, extremely common tool in the work places.
Air is my only vector, vector of transmission of sound as transmitter of forces and energy.
Tubes and pipes are my unique "objects-instrumental" sometimes with membranes more or less rigid.
Those pipes fits intimately in the encountered architectures .
Dismembered organ, organic system of a giant body, the multiplicity of sources, originality and simplicity of sound production methods employed different ways of listening in space. The sound spectrum is wide, starting from the infra-bass beat to the over-shrill.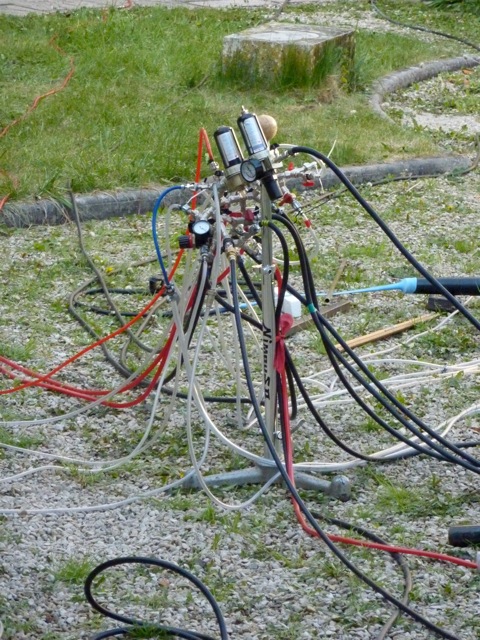 The first exhibition happened at la Malterie in Lille at the invitation of Crime/Muzzix in July 2005
Then during the Rurart residency in autumn 2006 in Melle (Poitou)
Festival « Festi-cuivres » in la Meuse, Cim Bar le Duc, école de musique of Gondrecourt and Saint Mihiel in September 2007
Festival de Basse Normandie in Caen, 22 May 2008
Festival des « Rutilants » at la fosse 9 9 bis de Oignies (59) the 29 June 2008
Festival « Piednu » in Le Havre the 4 April 2009
Festival « Why Notes » in Dijon "jardin du Consortium" the 23 April 2010
« La Rondehaye » Cotentin the 8 august 2010
« Nuit blanche » in Metz, university, association « Fragments » the 2 October 2010
« Césaré » in Reims, one install'actions week from 19 to 24 March 2012
in Mende the 9 June 2012
Tsonami december 2017 Valparaiso Chile
30 minutes performance to hear recorded at Césaré Reims for Topolo "To be continued 2012"